The Internet of Things (IOT)
The Internet of Things (IoT) is the network of physical devices, vehicles, home appliances, and other items embedded with electronics, software, sensors, actuators, and connectivity which enables these things to connect and exchange data, creating opportunities for more direct integration of the physical world into computer-based systems, resulting in efficiency improvements, economic benefits, and reduced human exertions.

The number of IoT devices increased 31% year-over-year to 8.4 billion in the year 2017 and it is estimated that there will be 30 billion devices by 2020. The global market value of IoT is projected to reach $7.1 trillion by 2020.

IoT involves extending Internet connectivity beyond standard devices, such as desktops, laptops, smartphones and tablets, to any range of traditionally dumb or non-internet-enabled physical devices and everyday objects. Embedded with technology, these devices can communicate and interact over the Internet, and they can be remotely monitored and controlled. With the arrival of driverless vehicles, a branch of IoT, i.e. the Internet of Vehicle starts to gain more attention.
A Nest learning thermostat reporting on energy usage and local weather. The extensive set of applications for IoT devices is often divided into consumer, commercial, industrial, and infrastructure spaces.
Consumer applications
A growing portion of IoT devices are created for consumer use, including connected vehicles, home automation/smart home, wearable technology, connected health, and appliances with remote monitoring capabilities.
Smart Home
IOT devices are a part of the larger concept of home automation, which can include lighting, heating and air conditioning, media and security systems. Long term benefits could include energy savings by automatically ensuring lights and electronics are turned off.
Elder Care
One key application of smart home is to provide assistance for disabled and elderly individuals. These home systems utilize assistive technology to accommodate an owner's specific disabilities. Voice control can assist users with sight and mobility limitations while alert systems can be connected directly to Cochlear implants worn by hearing impaired users. They can also be equipped with additional safety features. These features can include sensors that monitor for medical emergencies such as falls or seizures. Smart home technology applied in this way can provide users with more freedom and a higher quality of life.Commercial applications

The term "Enterprise IoT" refers to devices used in business and corporate settings. By 2019, it is estimated that EIoT will account for 9.1 billion devices.
Commercial applications
Medical and healthcare
The futurologist's vision seems to be that soon you will share your exercise levels, heart rate, activity, and other essential data accumulated by your mobile device with your doctor. "More and more care will be delivered outside hospitals and clinics", "This means mobile devices - from smartphones to monitoring devices - will become increasingly important as the number of patients cared for at home or in sheltered accommodation or other community centers increases." IoT devices can be used to enable remote health monitoring and emergency notification systems. These health monitoring devices can range from blood pressure and heart rate monitors to advanced devices capable of monitoring specialized implants, such as pacemakers, Fitbit electronic wristbands, or advanced hearing aids. Some hospitals have begun implementing "smart beds" that can detect when they are occupied and when a patient is attempting to get up. It can also adjust itself to ensure appropriate pressure and support is applied to the patient without the manual interaction of nurses. A 2015 Goldman Sachs report indicated that healthcare IoT devices "can save the United States more than $300 billion in annual healthcare expenditures by increasing revenue and decreasing cost." Recent contributions even refer to IoT solutions for medicine as the Internet of Medical Things.

Specialized sensors can also be equipped within living spaces to monitor the health and general well-being of senior citizens, while also ensuring that proper treatment is being administered and assisting people regain lost mobility via therapy as well. Other consumer devices to encourage healthy living, such as connected scales or wearable heart monitors, are also a possibility with the IoT. End-to-end health monitoring IoT platforms are also available for antenatal and chronic patients, helping one manage health vitals and recurring medication requirements.

The Research & Development Corporation (DEKA), a company that creates prosthetic limbs, has created a battery-powered arm that uses myoelectricity, a device that converts muscle group sensations into motor control. The arm is nicknamed Luke Arm after Luke Skywalker (Star Wars).
Transportation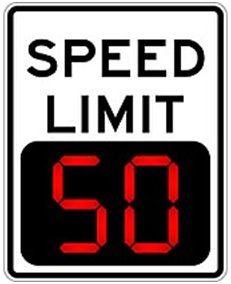 Digital variable speed-limit sign.
The IoT can assist in the integration of communications, control, and information processing across various transportation systems. Application of the IoT extends to all aspects of transportation systems (i.e. the vehicle, the infrastructure, and the driver or user). Dynamic interaction between these components of a transport system enables inter and intra vehicular communication, smart traffic control, smart parking, electronic toll collection systems, logistic and fleet management, vehicle control, and safety and road assistance. In Logistics and Fleet Management for example, The IoT platform can continuously monitor the location and conditions of cargo and assets via wireless sensors and send specific alerts when management exceptions occur (delays, damages, thefts, etc.). If combined with Machine Learning then it also helps in reducing traffic accidents by introducing drowsiness alerts to drivers and providing self driven cars too.
Building and home automation
IoT devices can be used to monitor and control the mechanical, electrical and electronic systems used in various types of buildings (e.g., public and private, industrial, institutions, or residential) in home automation and building automation systems. In this context, three main areas are being covered in literature:
The integration of the Internet with building energy management systems in order to create energy efficient and IOT driven "smart buildings".
The possible means of real-time monitoring for reducing energy consumption and monitoring occupant behaviors.
The integration of smart devices in the built environment and how they might to know who to be used in future applications.
Industrial applications
Manufacturing
The IoT can realize the seamless integration of various manufacturing devices equipped with sensing, identification, processing, communication, actuation, and networking capabilities. Based on such a highly integrated smart cyberphysical space, it opens the door to create whole new business and market opportunities for manufacturing. Network control and management of manufacturing equipment, asset and situation management, or manufacturing process control bring the IoT within the realm of industrial applications and smart manufacturing as well. The IoT intelligent systems enable rapid manufacturing of new products, dynamic response to product demands, and real-time optimization of manufacturing production and supply chain networks, by networking machinery, sensors and control systems together.